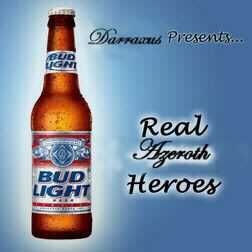 Darraxus presents: Real Azeroth Heroes
(Real Azeroth Heroes)
Today we salute you Mr. DPS who does not accept the random queue guy.
(Doesn't accept the instance queue guy!)
You have been waiting for 15-30 minutes for this instance. When it is go time, you should sit on your hands and soak up the sun.
(Now it is gonna have to requeue us!)
Just like you, I enjoy random instances
(And want to run them in a timely manner yeah!)
So, stay alt tabbed out looking at porn. Without you, the random LFG experience would not be complete.
(Guess you don't want your random emblems!)
So Mr.Doesn't accept the random dungeon queue Guy, have a bud on me and enjoy never getting into an istance. We probably won't miss you in you Northrend Greens anyways.
(Mr. Doesn't accept the random dungeon queue Guyyyyyyyyyyy!)