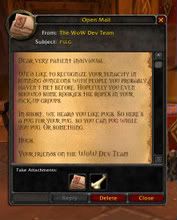 This weekend I did tons of pugging stuff on my Warrior. The new looking for group is awesome. I have gotten very few fail groups and everything as seemingly been great. With all of those pugs came a pug....a perky pug to be exact. You get a letter in the mail from the dev team letting you know that you can pug while you pug.
And the cute little bastard drag his ass across the ground. Im going to take him over to a friends to taint all of the furniture.
This weekend I picked up a crap ton of gear. I bought the Breastplate of the White Knight and the Saronite Swordbreakers. I also grabbed a tanking sword from one of the new instance and used emblems to get my ilvl 245 shoulders and helm. I had already picked up the ring. In about 10 minutes I will be grabbing my t9 gloves.
Overall, it was a very awesome weekend. How was yours?