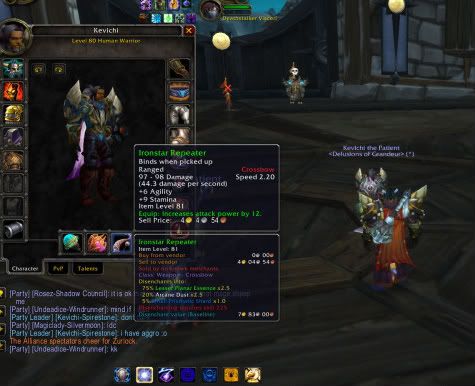 This is
Kevichi
- Spirestone. He is a fucking douchebag wasting my time. He is tanking....wearing three pieces of t9 and a green bow from outlands in his ranged slot. Obviously this run did not go well. His 29k fully buffed health was not enough.......and he couldnt hold aggro for shit.

If you have the opportunity, feel free to go to his realm and call him a fuckwit. This has been a public service announcemnt by Darraxus the warrior. Oh, and did I mention HE HAS TAILORING!!!!!!
I also ran with a tank in Heroic UK. We pulled aggro on every pull. His second highest damage ability was melee. He complained because he cant generate as much threat as his prot pally. Ummmm.....sure you can. IF YOU ARENT TERRIBLE. 1000 dps is not good for ANYBODY at level 80. That includes tanks. At least he was somewhat willing to learn. The first dude just up and left the instance because the healer couldnt keep him up in his craptastic gear.