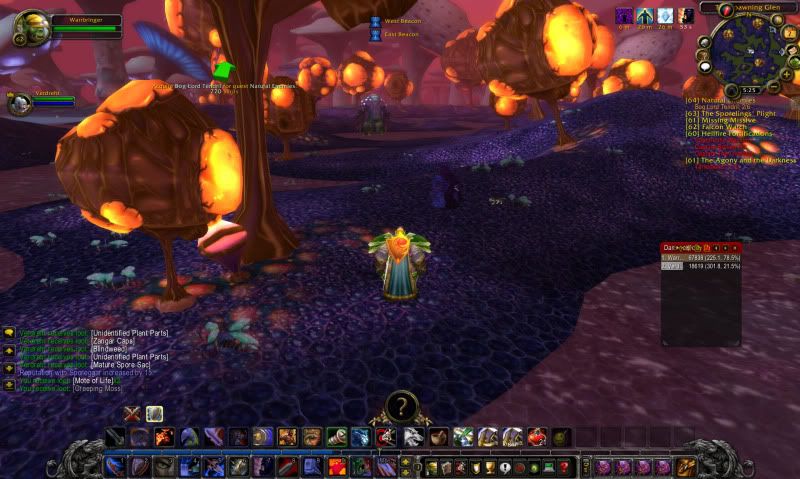 So, I got my Horde Warrior to 63 over the weekend. When I got to Outlands, my sister hopped on her priest and turned off her XP (she is level 66). First thing I needed to do was pick up some less craptastic gear. I entered Outlands with about 4500 hit points. Not exactly epic for a tank. The good thing about Outlands is that you find a lot of upgrades rather quickly. It is also kind of sad that same level dungeon stuff from the old content is made obsolete by some green items.
The picture above is us questing in Zangarmarsh. In some places, Shadowform is like PvP camo. There were times when I was like "WTF where are you, and she would be standing right next to me." So far I have tanked ramps a bunch of times, Blood Furnace once, and Slave pens a few times. All of the runs went very well. I am now rocking over 8k health. There was not a single dungeon that I went to where I was last in damage. Sometimes, I was even first in damage. All of those spellpower DKs probably did not help.
I also decided to get a Druid power leveled to 30 so that Nomnomhealz can grant him the levels. My Alliance Druid is named Rootmender.....so I named my Horde one Moomender. The name was actually my sister's idea. Once I hit 10 we headed over to SFK where we were doing 6.5 minute runs of the entire dungeon. I am sitting at 17 currently and we will be headed to SM once I get to level 20.
Overall, it was a pretty good weekend. How was yours.