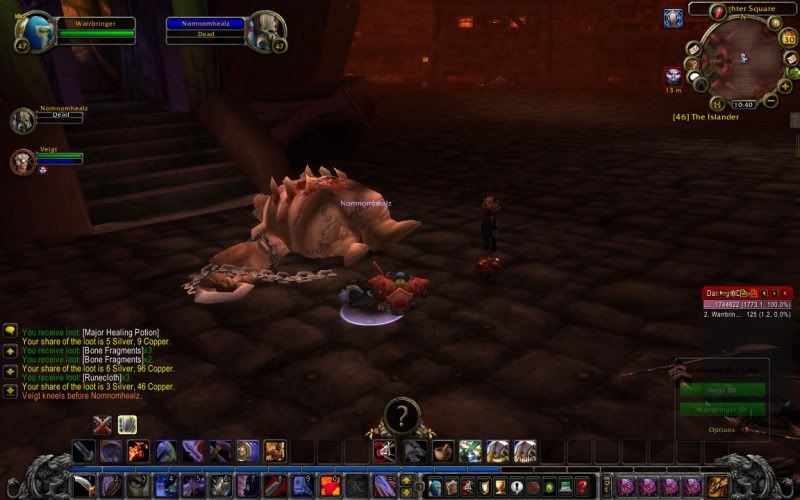 That is usually my wife's cheery greeting to me in the morning.....and me being a scrooge. Man I am not a morning person...at all. In the first few minutes after I wake up, there is a mean filter on my mouth. It makes me want to be MEAN.
The weekend in WoW turned out pretty decently. Last night, I got a few things done that made me a happy tank. First, I did the weekly after missing last week's. It was XT Deconstructor. I actually picked up several achivements just doing those first two bosses in Ulduar. The funny thing is that I went as DPS. I even got to engineer FL after we killed his ass.
I also finally GOT MY FUCKING TANKING BOOTS. They finally dropped out of FoS. I will never go back in there on purpose again. Seriously. I was very worried that the shitty ret paladin wearing defense boots was going to try and ninja them.
On my Druid, I got ToC5 as the Daily twice. You really find out who can't stay out of bad. People dying to poison or bladestorms were the norm. One of the runs seemed SOOOOO slow....thanks to a ret pally doing 800 dps. How this is even possibly, I dont even know.
I also got in some leveling on Warrbringer and Nomnomhealz. They went from 45-52 so far in Stratholme. Nomnom has died about a dozen times.......only 1 time did Warrbringer die. Nomnom is a magnet for death. He would die in every conceivable way possible. One of the more hilarious times was when he somehow got off of follow in the slaughterhouse....and the bone guards that come out of the Zigguarat came right at him, pasting him on the floor. Now I know why Nomnoms is a fair bit behind Warrbringer for xp. He cant stop dying!
Overall, it was a very good weekend. How was yours.