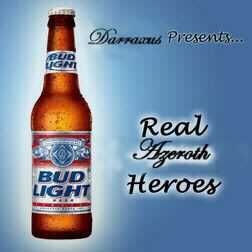 Darraxus presents: Real Azeroth Heroes
(Real Azeroth Heroes)
Today we salute you Mr. Weird Accents on the Letters of your name Guy
(Weird Accents on your name yeah!)
You think your name is incredibly unique. With the umlauts and other foreign marks over your name, you are a true master of language.
(Except I cant invite you to group now)
Just like you, I enjoy a good unique name
(Arthaspwnzers with some periods over the letters and squigglys elsewhere)
So, keep being a bastion of naming knowledge. Everyone who tries to invite you manually or whisper you will REALLY appreciate it.
(Still cant invite you to a fucking group guy!)
So Mr. Weird Accents on the Letters of your name Guy, have a bud on me and enjoy never getting into a raid. The only thing worse than your gear is you name.
(Mr. Weird Accents on your name Guyyyyyyyyyy!)
On a side note, I really fucking hate all of those special characters. Seriously. They are irritating. And I don't know how to type them.