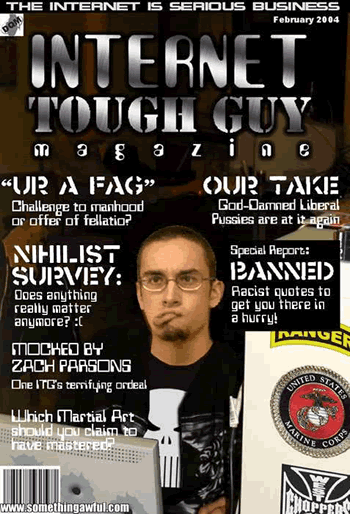 Last weekend I had the wonderful experience of dealing with and Internet Toughguy. I had just got invited to my first Heroic on my Warlock. It was Heroic VH. Unfortunately, I was in IF with my hearth on cooldown. I contacted the mage in the party to see if he could port me to Dalaran from SW. He said no problem. I hopped into the deeprun tram and this is where Mr. Tough Guy came in.
Tree Druid: "Please tell me you aren't taking the tram, the boat, and then flying to Dalaran."
Me: "My hearth is on cooldown."
Druid: "You are lucky im not the group leader. I would kick you for wasting my time".
Mage: "Its cool, im going to go get him."

Druid: " You shouldnt be in looking for group if you can't get there quickly. You are wasting our time".
Warrior (tank from Druid's guild): :"Come on Druid, you are making us look bad"
Me (to Warrior in party chat): "I did't know you guys let dickheads in you guild now"

Warrior: "Me either".
The run went fine, but was all of that really needed? Obviously he is an internet tough guy. Being anonymous with no fear of retribution will do that. I can guarantee that they would not talk like that to someone's face.
I don't really see the point of acting like that. I had run with many people from that guild previously. They are generally a very cool group. One internet toughguy can spoil that for the rest. Internet Toughguy then went on to complain about being called a dickhead. I always say....if the shoe fits.