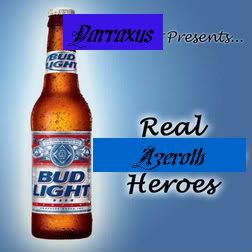 Darraxus Presents: Real Azeroth Heroes

(Real Azeroth Heroes)

Today we salute you Mr. I Got my Mammoth Mount so I can stand on the mailbox guy
(Mr. I Go my Mammoth Mount so I can stand on the mailbox guy)

Your mount is huge and you want everyone to know it. Without you, we would never want to punch a puppy in the face IRL.

(Really getting pissed-off now)

And just like you, I want to get my mail and RE-post my auctions.

(So get your fat ass out of the way yeah!)

So, get back on that Mammoth....and invite your friends
(Really didnt want to check my mail now anyway)

So Mr. I Got My Mammoth Mount so I can stand on the mailbox guy. Have a Bud Light....and a baby spice on me....and if that dont work, a GM ticket will.

(MR. I GOT MY MAMMOTH SO I CAN STAND ON THE MAILBOX GUYYYYYYYYYY)