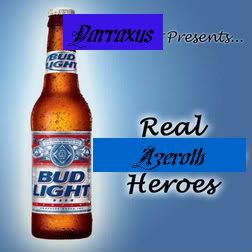 Darraxus Presents: Real Azeroth Heroes
(Real Azeroth Heroes)
Today we salute you Mr. Overgeared and cocky so I pull everything and wipe you guy
(Mr. Overgeared and cocky so I pull everything and wipe you guy)
Never has a tank killed so many....allies. Without you, we would never know the term "Lulz my bad ;D".
(Gonna make us wipe now)
And just like you, I love a good repair bill or failpug.
(So I can bitch about something on my blog yeah!)
So get back in that instance and pull the other half
(Really want to tank the whole instance)
So Mr. Overgeared and cocky so I pull everything and wipe you guy. Have a Bud Light....and a repair bill on me....I will be hearthing this time around.
(MR. OVEREGEARED ABD COCKY SO I PULL EVERYTHING AND WIPE YOU GUYYYYYYYYYY)