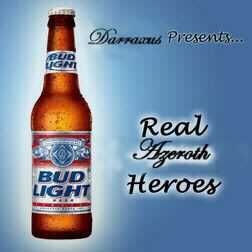 Real Azeroth Heroes
Darraxus presents: Real Azeroth Heroes
(Real Azeroth Heroes)
Today we salute you Mr. I have no fucking clue how to play guy.
(Boomkin doing the melee!)
Your rotation includes spells that make my brain bleed
(How the hell did you figure out how to log on?!)
Just like you, I enjoy mucking around in instance.....
(But I did some research to not look like a tool yeah!)
You somehow added conjure mana biscuit to your rotation.
(Decurse isnt for offense!)
So Mr. I have no fucking clue how to play guy, have a bud on me. You are somehow making human extinction look better every day. One keyboard turn at a time.(Mr. I HAVE NO FUCKING CLUE HOW TO PLAY GUYYYYYYY!)